Point Richmond Acoustic presents this Friday, Nov. 8 *—

Tish Hinojosa
with special guest Anny Celsi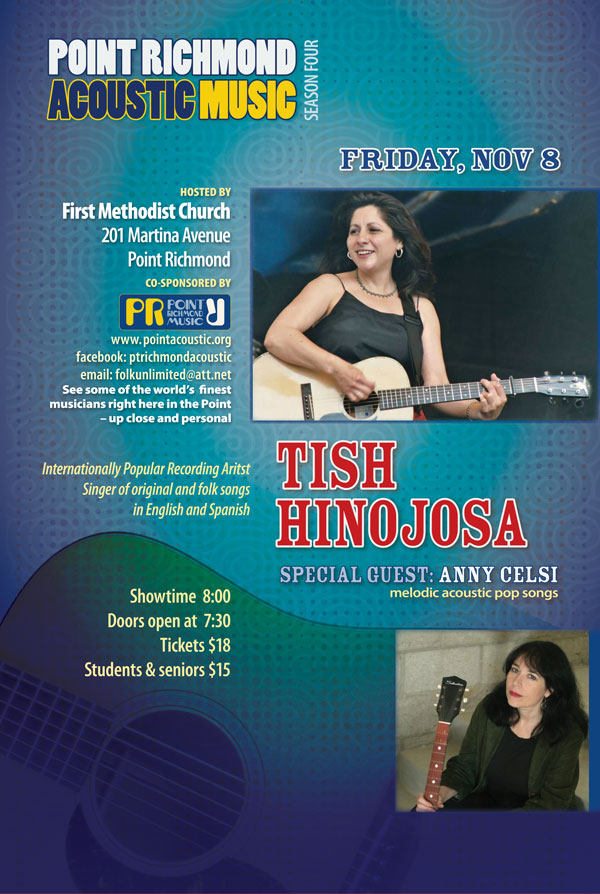 UPDATE: This Friday's show is a go! Though Tish canceled most of her California dates due to a health situation, she is back on tour, starting with our show this Friday night - her only Bay Area appearance!
---------------------------------
This Friday, we present internationally acclaimed recording artist Tish Hinojosa, accompanied by long-time collaborator Marvin Dykis, and with special guest Anny Celsi opening the show. Show starts at 8:00, doors open at 7:30 and tickets are $18 at the door, $15 for seniors and students.

Tish moves with equal grace through folk, country, pop and Latino styles. The Texas singer-songwriter, youngest of 13 children of Mexican immigrants, sings in both English and Spanish, combining and embracing these varied styles with characteristic warmth and a pure, soulful voice.

Tish is the real deal! She has released 15 albums, each distilling diverse influences and life experiences. They include the award-winning Culture Swing, Mexican love ballads and border songs in Spanish on Frontejas, her bilingual children¹s record Cada Niño/Every Child, and Sign Of Truth which reveals a more personal, intimate, yet independent side influenced by divorce and other life transitions.

Tish has contributed her talent to causes such as bilingual education, immigration and farmworkers' rights. She has performed at the White House for Bill and Hillary Clinton. She has recorded and worked with Joan Baez, Kris Kristofferson, Dwight Yoakam, Nanci Griffith, Pete Seeger, Flaco Jimenez and Los Lobos. Linda Ronstadt, one of Tish¹s early influences later recorded her own version of Tish's song "Donde voy." For more info: www.mundotish.com/ or any of the dozens of classic videos on YouTube.

Anny Celsi open the show. Her style has been described as "beatnik cool," "pop-noir," and "slightlydelic pop jangle." Intimate and incisive, Anny's live shows bring wit, soul and energy to the traditionally mellow singer/songwriter format ­ and proves that girl-with-guitar has no limits. She has a strong country and folk vibe like Aimee Mann, Lucinda Williams, Suzanne Vega and Jackie DeShannon. She often tours with Tish, and will be accompanied Friday by Bruce Kaplan, a long time friend and collaborator. Check her out at www.annycelsi.com.

So don't miss this show! Point Richmond Acoustic concerts are held at the First Methodist Church, 201 Martina, in Point Richmond.

Mark your calendars - our December 13 show features Teresa Tudury - one of our favorite artists who is writes songs that are both stunningly touching and painfully funny, plus veteran Nashville singer/songwriter Claudia Nygaard!

Thanks for reading - and thanks to our friends at Point Richmond Music, our team of volunteers, and the First Methodist Church!

Bruce Kaplan and Claudia Russell
- Point Richmond Acoustic
www.pointacoustic.org

Want to receive TOM BUTT E-FORUM and other action alerts on Richmond political and community issues delivered to your email address? Email your name and email address and/or the names and email addresses of others who would like to be placed on the mailing list and the message "subscribe" to tom.butt@intres.com. Comments, arguments and corrections are welcome. Tom Butt is a member of the Richmond City Council when opinions and views expressed, without other attribution, in TOM BUTT E-FORUM, they are those of Tom Butt and do not reflect official views or positions of the City of Richmond or the Richmond City Council unless otherwise noted. Visit the Tom Butt website for additional information about Tom Butt's activities on the Richmond City Council: http://www.tombutt.com. Phone 510/236-7435 or 510/237-2084. Subscription to this service is at the personal discretion of the recipient and may be terminated by responding with "unsubscribe." It may take a few days to remove addresses from the distribution list.
This site may contain copyrighted material the use of which has not always been specifically authorized by the copyright owner. We are making such material available in our efforts to advance understanding of environmental, political, human rights, economic, democracy, scientific, and social justice issues, etc. We believe this constitutes a 'fair use' of any such copyrighted material as provided for in section 107 of the US Copyright Law. In accordance with Title 17 U.S.C. Section 107, the material on this site is distributed without profit to those who have expressed a prior interest in receiving the included information for research and educational purposes. For more information go to: http://www.law.cornell.edu/uscode/17/107.shtml. If you wish to use copyrighted material from this site for purposes of your own that go beyond 'fair use', you must obtain permission from the copyright owner.
To the extent that content is excerpted under the fair use doctrine from other media, I urge readers to subscribe to the print versions of these media to help support professional journalism and the businesses that publish news, and I urge readers to log in to the online versions to access additional content, related content and unrelated news. I especially appreciate local sources of news that include the Contra Costa Times , the San Francisco Chronicle, Richmond Confidential and the East Bay Express.