In This Issue

Berry Berry Good
Sweet Summer Corn
Summer Food Festivals
Market Highlights
Market Events
Locavore
Cookin' the Market
Fresh Approach
Cool Summer Recipes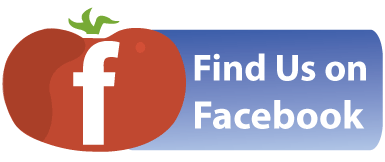 ---
Please note: The market will operate 10am to 1pm on July 4th for the holiday only. We will return to 4pm to 7pm the following week.
---
Get your limited edition PCFMA 25th Anniversary totebag at the market for just $2 each at the info booth!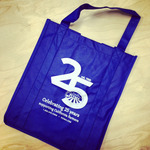 ---

Summer Food Festivals

Marysville Peach Festival
Friday and Saturday, July 19 & 20, Downtown Marysville. There will be a wide variety of new and returning craft vendors, food vendors cooking for every taste with many delicious choices of peach related foods, and great entertainment for all ages!

Gilroy Garlic Festival
The granddaddy of all food festivals!
Friday through Sunday, July 26 to 29, 7050 Miller Ave. There will be entertainment, arts and crafts, the famous Gourmet Alley with food and beverages and all things GARLIC!
---

Fresh Approach

Thanks to the support of our dedicated volunteers, Fresh Approach and PCFMA have been making healthy food more affordable and accessible to CalFresh customers throughout the Bay Area. Our Market Match program offers farmers' market customers an additional $5 free to spend on fruits and vegetables when they spend $10 or more using their CalFresh EBT card. Our incredible volunteers have helped to make this program a success by being available at many farmers' market info booths to answer customers' questions and to process CalFresh EBT transactions. Our original goal was to have 500 new CalFresh customers in 2013 and thanks in large part to the work of our volunteers, we met this goal by the end of May! If you see a PCFMA volunteer out at one of our markets, make sure you give them a big thank you for all of their hard work. Look for the friendly person in the green PCFMA Volunteer apron!
---

What's in Season

Fruit: Apriums, blackberries, blueberries, nectarines, peaches, plums, pluots, raspberries, and strawberries,

Vegetables: Artichokes, beets, bell peppers, bok choy, broccoli, cabbage, carrots, cauliflower, celery, chard, corn, cucumber, eggplant, garlic, green beans, herbs, hot peppers, kale, leeks, lettuce, mushrooms, onions, potatoes, spinach, summer squash, and tomatoes.

Coming Soon: Cantaloupe, figs, grapes, honeydew melon, and watermelon.
---
Your Community

Third of July Celebration
Wednesday, July 3, Marina Bay Park, 6pm to 10pm, fireworks at 9:15pm. Kids' Fun Zone, food vendors, live blues band.
---
If you don't already receive this monthly email newsletter, sign up today!

[Subscribe]



Summer Sizzles at the Market!




Berry Berry Good!
Ah, summer berries! They're sweet, versatile, and good for you, too! Naturally sweet strawberries, blueberries, blackberries, and red and golden raspberries are abundant
during the summer months. Whether you enjoy them in fruit salads, in desserts, in smoothies, or just eaten in hand, they are delicious! With hefty nutrition and sweet taste, you can't lose. Read more here...
---
Crazy for Corn!
Sweet yellow, white, and bicolor corn is the epitome of fresh summer picnics and barbecues. There's nothing better than sitting down to a big crisp ear of sweet summer corn on the cob, dripping with butter. Grilled or boiled, corn on the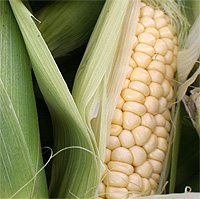 cob is a real treat that's hard to top for flavor, freshness, and just plain delicious fun. Corn is now available at your local farmers' market through early fall. Read more here.



Market Highlights

Cipponeri Farms: Wonderful sweet juicy stonefruit. They have a huge variety of peaches and nectarines, apricots, and plums.

Lujan Farms: Luscious white and yellow peaches like the Fancy Lady variety; tasty nectarines like Summer Bright; plums, pluots and apriums. Toss some on the grill for a sweet 4th of July treat.

G&A Farms: From Hollister, awesome veggies including long purple eggplant, ciogga beets, jalapeño peppers, onions, lettuce, and so much more.

Le Croissant Bakery: Wide array of baked goodies in time for summer desserts. Try their raspberry twists, chocolate croissants, ooey-gooey cinnamon buns, and spicy jalapeño bread.

That's My Dog: Old-fashioned hot dog cart with a new take on hot dog flavors. Try the hot links, the vegetarian, or the popular slaw dog, a family recipe from Kevin's grandmother.
---

Market Events

July 4: The market is open 10am to 1pm for the Independence Day holiday. We will return to normal hours of 4pm to 7pm the following week. A parade will go down the middle of the market; there will be kids' activities, flags, mimosa garden, and a reading of the Declaration of Independence. Happy Birthday, America!

July 11: Find the secret word of the day on the market Facebook page and mention the word to the market manager for some free produce! While supplies last. Did you take photos of the market last month? Our customers can now vote on their favorites at the info booth.

July 18: ArtWalk at the Market with additional musicians and artisans for your enjoyment.

July 25: Guess the number of kernels of corn on the cob and win some great produce prizes.

►Keep up-to-date! Check the farmers' market Facebook page for event updates or changes.
---

Locavore - Summer in a Jar!
With all the wonderful fresh produce now available at your farmers' market, canning is a great way to preserve these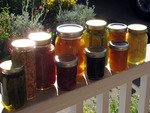 summer fruits and vegetables to enjoy all year long. Home cooks are rediscovering the satisfaction of creating tasty edibles that will be available to their family through the year. So when they get a craving for succulent peaches in the middle of winter, or the urge for a dollop of blackberry jam, they only have to reach in the cupboard for homemade summer goodness.
Try your hand at canning and preserving pickles, relishes, jams, peppers, and more. It's relatively inexpensive, not to mention you have the satisfaction of knowing you are buying fresh in-season local produce.
---

Cookin' the Market - Chef Anna Buss


SF City Bees - Interview with Robert MacKimmie

Robert is making the most of San Francisco's everblooming landscape and its wealth of plant diversity by setting up and caring for bee hives on rooftops and in people's yards. He says, "Everything about bees is total goodness. Bees pollinate one-third of what we eat. Every food that has color is bee pollinated."

After a day of examining Robert carefully working with one of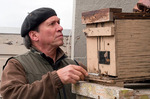 his bee hives on a rooftop balcony in San Francisco we sat down at the Beanery coffee shop in San Francisco to discuss his career as an urban farmer and his love for the community. Read the interview here.

►Look for recipes, cooking tips, tricks, and more on the Cookin' the Market Facebook page!
---

Cool Summer Recipes

Celebrate the red, white, and blue this month with these fun summertime recipes. They're perfect for outdoor barbecues and picnics, pool parties, and concerts in the park.

Patriotic Grilled Chicken


Red, White, & Blue Potato Salad

Red, White, & Blueberry Tart

Visit PCFMA/recipes for more great recipes. You're sure to find something to celebrate the 4th!
---